Born and raised in Appleton, Wisconsin, Jim and Sally were high school sweethearts. Following a storybook courtship, they married and settled down to pursue the American Dream. They soon discovered that with all the trappings society calls "success" came also the baggage society takes for granted, superficial spirituality, a stale marriage, and a disconnected family.
Determined to find a better way they sold their possessions and moved to the wilderness of Montana. What they learned there is transforming their walk with God, igniting the spark in their marriage, and uniting their family. More than that, it is doing the same for all those who implement the simple principles they discovered. What is working for them can work for you where you are right now!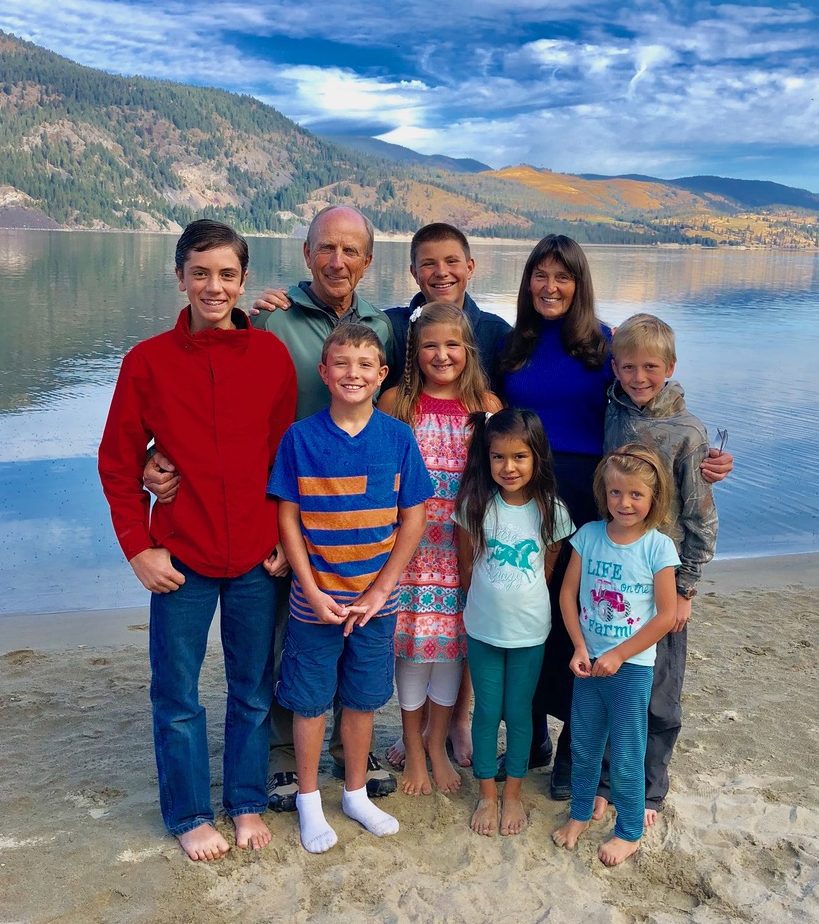 Back row: Landon, Jim, Nathan, Sally, Jesse
Middle row: Jason, Vanessa, Grace, Emma
September 2018
We were young and educated. We owned a successful business, a beautiful home, and expensive vehicles. We even had a great reputation in our church.
But underneath the veneer of success, our lives were busied, pushed, and stressed. Our marriage was troubled, our Christian experience was superficial, and we didn't really know our children.
Convinced that pursuing the "American Dream" was robbing us of an authentic walk with God, we sold everything and set off for the Montana wilderness in search of the "Enoch experience". What we found forever changed our lives. Yours could be next!
Many years have passed since we moved our family to the wilderness. Our little boys, then four and six, are now grown men, with homes and families of their own. Matthew, our oldest son, married Angela on August 11, 2002. Andrew and Sarah were married October 20, 2002. Both couples now reside in the countryside outside of Columbia Falls, Montana.
Matthew is a real estate broker specializing in country and wilderness properties. Angela is a full time mom to their three precious children, Nathan, Jason and Vanessa.
Andrew is a licensed building contractor. He enjoys the creativity and satisfaction that he finds in building. Sarah is a full time mom to their children Landon, Jesse, Grace, and Emma.
Our family remains closely connected with the Lord and with each other. We face each new day with the realization that our Savior is always near to lead and guide through all the seasons of life.
Sally and I continue to work for all people around the globe sharing our passion for a transformed life. It is our mission to direct all to a full reconciliation with God through His Son, finding there the power to live a godly life and build an empowered marriage, family, and home.
Back Row: Jason, Nathan, Landon, Jesse
Middle: Vanessa
Front Row: Emma, Grace
December 2018